P-YDFM-920-N YDFM-920 (82 CM.) (MANUAL) THERMAL LAMINATING MACHINE (SHEET TO ROLL) (CHINA)
P-YDFM-920-N YDFM-920 (82 CM.) (MANUAL) THERMAL LAMINATING MACHINE (SHEET TO ROLL) (CHINA)
Product Description
P-YDFM-920-N YDFM-920 (82 CM.) (MANUAL) THERMAL LAMINATING MACHINE (SHEET TO ROLL) (CHINA)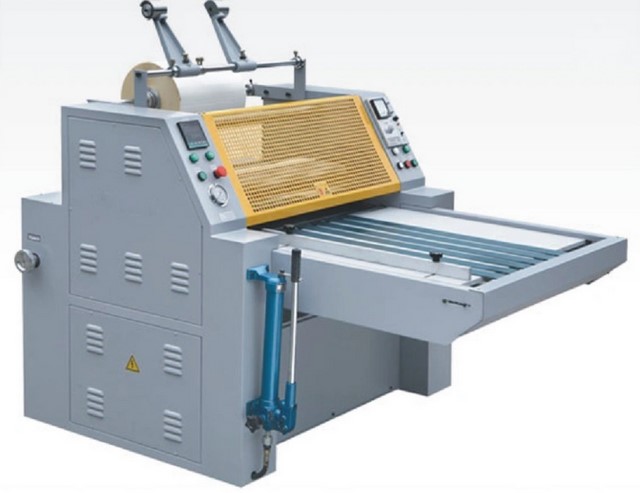 | | |
| --- | --- |
| Model | P-YDFM-920-N |
| Laminating  width | 820mm |
| Laminating  speed | 0- 30m/min |
| Laminating  temperature | 60-130 degree |
| Motor  power | 1.5 kw |
| Heating  power | 8kw |
| Voltage | 380V(three  phase,   four  wire) |
| Total weight | 52 0kg |
| Overall  dimension | 1900×1500×1600mm |
Features:
P-YDFM-N series of Pre-Glued Laminating Machine is compact and economic laminator. It adopts the designs of manual feeding, manual hydraulic pressuring system,
Automatic lamination and auto paper winding. Laminated paper shall be cut by manual work. The reasonable structure saves the occupation of floor area so much.
Manual hydraulic pressuring system provides big pressure to guarantee good laminating quality.
Excellent laminating performance solves completely the problem of snowflake spots in traditional lamination, and perfects products quality and also reduces users' production
Costs so much. So this type of laminator is a wonderful choice for laminating process to medium and small enterprises.
Configuration:
1. One-piece construction design makes the machine run more stably, and lengthens the machine's lifetime.
2. Manual paper feeding.
3. Regulating plate can be adjusted easily to regulate manual paper feeding.
4. High precision of chrome plated heating roller is equipped with built-in electrical tube heater which makes temperature rise quickly. The laminating temperature is adjustable upon applications.
5. Hydraulic pressuring system provides big and steady pressure to guarantee good laminating quality.
6. Film cutter cuts film width to make it meet paper size. The cut film is left on the film release spindle.
7. Film perforating wheel perforates film edge to make the separation of laminated paper easy.
8. Laminated paper is rolled up automatically by the winding spindle. Winding speed is adjustable upon requests. Winded paper shall be cut by manual work.
VİDEO
Customers Who Viewed This Item Also Viewed